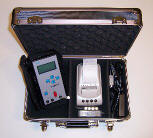 The Digimet 3000 Complete is shown above. Digimet 3000 shown below, by itself.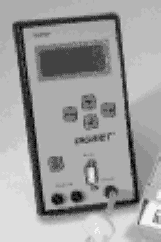 * The Digimet 3000 Version 4.0 is "System Evaluation in the Palm of your Hand". The basic unit is sold with a cable for computer uploading, computer software for transferring and viewing data on a computer, a small fabric carrying case, tubing, filters and accessories for connecting to a vacuum system.
* The Digimet 3000 Complete comes with the Digimet Printer and hard carrying case.
*

A Spanish language version is

available

. The Digimet display, the manual and the program for the computer are in Spanish. Vaya a
* Go here for more information